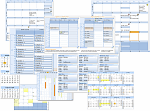 Studio Controls for COM
by DBI Technologies Inc.

See All Products by DBI Technologies Inc.

Visit DBI Technologies Inc.'s Web Site
Studio Controls for COM contains the premier Appointment Scheduling, Data input and edits, Dialogues, Calendars, Data and Menu Navigation, General Presentation and Grid, List and Tree View controls in one single, value-packed product.
Note: Active-X.COM has not tested this software. It was submitted directly by the software publisher and listed on
Active-X.COM for your convenience. It is advised that you only download and install software from sites you trust.
Additional Information
Publisher
DBI Technologies Inc.
Version
1.0
List Price
$749.00 (U.S.)
Category
Programming Tools
License
Trial
Submitted
1/5/2010
Usage
ActiveX Control
100% .NET Compatible

Special Requirements