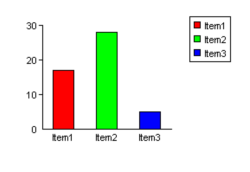 csDrawGraph
by Chestysoft

See All Products by Chestysoft

Visit Chestysoft's Web Site
This ASP component draws pie and bar charts and line graphs on the fly. Output options include GIF, PNG, JPG and bitmap as a stream for BinaryWrite, or as a file. A wide range of properties allow the customisation of colour, size and text style. Built in defaults allow the production of graphs with only a few lines of code. Use random colours if prefered. Produce HTML image maps for the charts. Free trial. 32 or 64 bit available.
Note: Active-X.COM has not tested this software. It was submitted directly by the software publisher and listed on Active-X.COM for your convenience. It is advised that you only download and install software from sites you trust.
Additional Information
Publisher
Chestysoft
Version
3.0
List Price
$60 (U.S.)
Category
WWW / Internet / TCPIP
License
Trial
Submitted
6/15/2009
Usage
ActiveX DLL
ActiveX ASP
100% .NET Compatible

Special Requirements
WinXP or later.