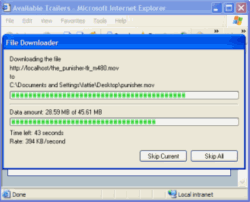 File Downloader
by Aurigma Inc.

See All Products by Aurigma Inc.

Visit Aurigma Inc.'s Web Site
ActiveX control for mass file and folder download directly from the browser. It allows your site visitors to download multiple files from your site with a single click. This control can be seamlessly integrated with your website and it is easy enough to be used even by untrained users. It has a number of handy features: progress bar, possibility to preserve folder structure, log file, etc. User-friendly mass download is reality, not a dream.
Note: Active-X.COM has not tested this software. It was submitted directly by the software publisher and listed on Active-X.COM for your convenience. It is advised that you only download and install software from sites you trust.
Additional Information
Publisher
Aurigma Inc.
Version
1.0
List Price
$149 (U.S.)
Category
WWW / Internet / TCPIP
License
Shareware
Submitted
6/23/2008
Usage
ActiveX Control
100% .NET Compatible

Special Requirements